Pennsylvania General Energy Corp
From Wikimarcellus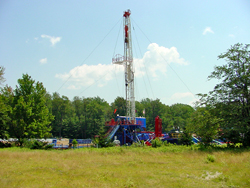 Warren, Pennsylvana-based Pennsylvania General Energy Corp. (aka PGE) is a privately owned, independent oil and gas exploration and production company that operates over 1,100 wells in the Appalachian Basin. It owns drilling rights to 439,000 acres in Pennsylvania and New York and drills about 100 new wells per year. Much of this land is prospective for Marcellus shale including leases located in Elk, Forest, McKean and Potter counties in Pennsylvania. PGE has a number of vertical Marcellus wells and completed drilling of its first horizontal well in Potter County during July, 2008.
PGE is also active in the Trenton-Black River play in New York State, having drilled a number of successful wells there.
A December, 2008 report found PGE dealing with a well fire near the village of Roulette on Route 6 in Potter County, PA. The fire occurred when one of three horizontal wells the company operates in that vicinity for Guardian Exploration LLC developed a gas leak.
According to a June, 2009 report, PGE has six Marcellus shale wells in Potter County, PA. It also has a large number of other wells in the county (approximately 100).
September, 2009 found PGE drilling three Marcellus shale wells in northwest Pennsylvania's Forest County. The locations were as follows:
Two were Green Township. The first one had been started July 27, 2009 and the second one on August 6.
A third one had been started on July 2 in southwest Howe Township. Pennsylvania General also had benn issued a permit for a second well in Howe Township.
PGE was noted in a July, 2010 news article as planning to drill in the Allegheny National Forest (ANF) approximately 2 miles south of the Minister Creek Recreation Area off State Route 666 between Mayburg and Howe Twp. in Forest County, PA. The company also had several surrounding gas and water well sites in the same immediate area.
Douglas E. Kuntz is PGE's President and CEO.
Bruce Sampson and Bob Dean are company spokesmen.