Anadarko Exploration & Production Company
From Wikimarcellus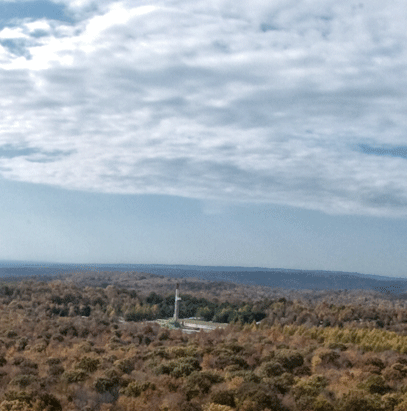 Anadarko drilling rig in an Appalachian forest
Photo courtesy of Anadarko Petroleum Corp.
Anadarko Petroleum Corp. (NYSE: APC) aka Anadarko Exploration & Production Company LP is an oil and gas exploration and production company based out of The Woodlands, Texas. As of January, 2010 it controlled approximately 315,000 net acres that are prospective for Marcellus shale. Update: See Mitsui JV information below - 100,000 of net acreage transferred to Mitsui.
In September, 2008 this company was reported having won five leases in competitive bidding for tracts in the State of Pennsylvania's forest lands in Tioga and Lycoming Counties. Eighteen tracts were offered for bid.
A January, 2009 report indicated that it had 300,000 acres under lease in the Appalachian region, mainly in central Pennsylvania. Counties mentioned in the report are Centre, Clinton and Lycoming. Anadarko has applied to the Susquehanna River Basin Commission to withdraw up to 4 million gallons of water per day in the above counties for planned Marcellus shale drilling.
In February, 2009 the company announced that it had drilled one horizontal Marcellus shale well with initial production of 4.5 Mmcf/d. At the same time, three additional horizontal wells were at various stages of completion.
The company announced in a May, 2009 update that the second in a series of horizontal wells in Bradford County, drilled with its joint venture partner, Chesapeake Energy, was in the process of being tested, and had production to sales of 7.6 Mmcf/d. This report also noted that the company had two other wells being tested, and three more awaiting completion activities. The company has a second area of operations south of Bradford County where it has drilled several vertical wells. It planned to move a rig there to drill horizontal wells. This may refer to the previously mentioned Clinton or Centre County locations, although the exact location wasn't clear from the update--merely that it was "south" of Bradford Co.
According to an August, 2009 report, Anadarko had drilled one horizontal well near Snow Shoe in Centre County, PA. This well had been drilled, but was still awaiting hydro-fracturing. The company was in the process of drilling two other horizontal wells in Clinton County on state forest land. One of these two was located in Grugan Township. It is located about 20 miles northwest of Lock Haven, PA. The Grugan well had used a hitech drilling rig that was operated by Precision Drilling Trust. The rig can literally walk a well pad for up to 90 feet from its starting point in 6 foot long steps. Using this rig, Anadarko had the capability to drill up to six horizontal wells from a single pad.
A September, 2009 account mentioned that Anadarko had drilled three Marcellus wells in Clinton County and was preparing to drill its first one in Lycoming County in the Larry's Creek area.
Anadarko was sighted clearing approximately 12 well pads, each approximately four acres--the size of three football fields--in November, 2009 in Clinton County, Pennsylvania's Sproul State Forest located in Renovo near the West Branch of the Susquehanna River. Sproul Forest consists of 305,000 acres that straddle a portion of Cameron, Centre, and Clinton Counties. Apparently, Anadarko's leases with the State of Pennsylvania limit the well sites in Sproul Forest to one per square mile. Each rig was 200-foot tall and required 80 trucks to transport to the well site. Drilling time for a well was estimated to be one month.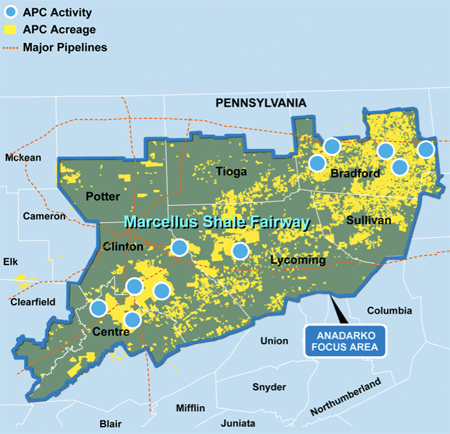 Anadarko's focus area in central and northeast Pennsylvania
Map courtesy of Anadarko Petroleum Corp.
According to a January, 2010 update from the company it had increased its acreage position by 35,000 acres in the Marcellus shale during the 4th quarter of 2009 to 715,000 gross acres or 315,000 net. The increase had been made up of acreage involved in the joint venture with Chesapeake as well as some purchased at a lease sale from the State of Pennsylvania. Regarding the joint venture, the acreage acquired was adjacent to existing holdings. Chesapeake, who was the operator, planned to field 10-12 rigs during 2010. The joint venture had approximately 20 Marcellus wells that were flowing into sales.
Anadarko intended to field six of its own drilling rigs during 2010. The company had seven operated wells outside its Chesapeake joint venture flowing into sales. It was in the process of drilling and testing another one in Lycoming County, PA. Its areas of operation included Centre, Clinton and Lycoming counties. Many of both the joint venture's wells and Anadarko's own operated wells were on restriction with gathering lines still being permitted or else under construction. The January '10 update also mentioned that the company's Marcellus shale production presently exceeded 7 Mmcf/d.
A press release appeared in February, 2010 announcing a joint venture between Anadarko and Mitsui E&P USA LLC, a company that is affiliated with Mitsui & Co., Ltd. (NSDQ: MITSY). Mitsui was to purchase a 32.5% interest in Anadarko's Marcellus shale assets for $1.4 billion. That amounted to roughly 100,000 acres out of Anadarko's 315,000 acre net leasehold. Mitsui's contribution was to be in the form of a carry for 100% of Anadarko's development expenses for 2010 and 90% of the expenses thereafter. All obligations were to be satisfied by 2013. Mitsui also had the opportunity to buy a similar percentage in Anadarko's existing wells and any new acreage acquisitions that the company made by paying its proportionate share of the expenses. The deal was to close on March 15, 2010.
A news account appeared in May, 2010 mentioning that Precision Drilling was in the process of drilling a well for Anadarko in Centre County, PA's Boggs Township to a depth of 13,000 feet. The article mentioned that the company's wells were using an extra string of casing to prevent frac water from seeping into ground water. The process consisted of using 3 strings of casing along with 2 barriers made from cement around the well casing. The company also planned to build a natural gas pipeline cutting across Centre County and north into Clinton County where it was to connect to an already existing pipeline.
Another report surfaced in September, 2010, that was apparently also mentioned in Anadarko's second quarter report, about a well drilled in the eastern end of Snow Show Twp., Centre Co., PA that had tested at a 24 hour-peak rate of production of 7.8 Mmcf/d. This may be the same Snow Shoe well mentioned above in August, 2009 that was drilled, but at the time still awaiting hydro-fracturing. The same report mentioned that Anadarko had drilled 21 wells in the county--more than any other company operating there.
James Hackett is Chairman, President and CEO of Anadarko Petroleum.
R.A. (Al) Walker is the company COO.
Robert G. Gwin is Senior Vice President and CFO.
David C. (Clay) Bretches is Anadarko's Vice President, Minerals and Marketing.
R. Douglas (Doug) Lawler is Vice President of Operations-Southern Region.
Michael J. (Mike) Beattie is the Geoscience Manager for the Appalachia region.
Chris Doyle is the General Manager of Development-Marcellus Shale.
Scott Chesebro is Engineering Manager for Appalachian Operations.
John Christiansen is an Anadarko spokesman.
Matt Carmichael is also a spokesman.
Mary B. Wolf is a spokeswoman for Anadarko.