Norse Energy
From Wikimarcellus
Lysaker, Norway-based Norse Energy Corp. (OTCQX: NSEEY), or its North American subsidiary, Nornew, Inc. (aka Norse Energy USA), with offices in Norwich, New York, northeast of Binghamton, is the most active driller in Chenango County, NY. Update: As of January, 2011 Norse moved its U.S. headquarters to Buffalo, NY. It had drilled dozens of wells in the sandstone formations in both Madison and Chenango counties, especially in the towns of Lebanon, Plymouth and Smyrna. A company spokesman stated that it had purchased most of the available Marcellus and Utica shale acreage in these two counties or else already had it under lease. As of January, 2010 its leasehold consisted of 180,000 acres. 130,000 of the total acreage had stacked potential not only for the Herkimer formation, but also for the Marcellus and Utica shales.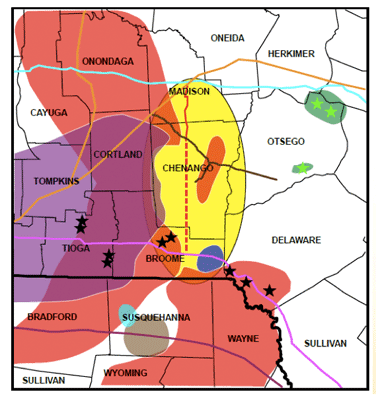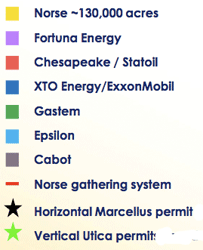 N.Y. map courtesy Norse Energy
Latest Company Developments
At the conclusion of 2009, Norse's production from the Herkimer formation amounted to 12 Mmcf/d. While much of its acreage is prospective for Marcellus and Utica shales too, drilling is on hold for these pending final approval of New York State's Supplemental Generic Environmental Impact Statement. Horizontal drilling is permissible in the Herkimer formation so long as the limit of 80,000 gallons per fracture stimulation is not exceeded.
2008 Development Timeline
It was reported in August, 2008 that Norse had drilled eleven wells in the previous twelve months in Chenango County. It had been active there since 1996. Later reports indicated that all eleven had been successful in fractured Silurian Herkimer sandstone.
Many Herkimer wells drilled - Central NY leasehold grows
By Septeber, 2008 the company announced that two of its wells in northern Chenango County eacn had been producing approximately 1 Mmcf/d of natgas from the Herkimer formation. Neither well location was disclosed, yet most of Norse's Herkimer wells are located on various country roads west of State Route 12 and 12B between South Oxford and Pine Woods in rural Chenango County. There is also a small cluster of wells near Coventryville off State Route 41. Production from these wells flows out either through a New York State Gas & Electric or a Dominion line.
An October, 2008 report indicated Norse's leasehold had grown to 130,000 acres in Broome, Chenango and Madison counties in New York. It had drilled two additional wells near Norwich, New York, and also built a gathering system there.
Setting up infrastructure
The company planned to drill in central Broome County from where it could ship gas out through the Millennium Pipeline.
It had also set up a gas compression station at the northern end of its zone of operations so gas could be flowed into a Dominion pipeline running through Madison County. Covering more than fifty miles, Norse's gas transportation and gathering pipelines anchored the company's acreage and added considerable value.
Nornew had a pipeline underway that ran south through Chenango Co. to connect up with the Millennium Pipeline in Broome County. It was to be completed by 2010, and it traveled from Plymouth to Preston, Oxford, Coventry and Afton. Offshoots from this main line were to connect up with individual well locations along the way.
Acreage grows - Marcellus shale permits
According to a November, 2008 report, Norse's total leasehold had swollen to roughly 175,000 acres. It had applied for several permits for Marcellus shale wells in the same general area as mentioned above for its Herkimer wells--off State Route 12 between South Oxford and Smyrna. There is also another small cluster of permits near Coventryville off Route 41.
Drilling results
In December, 2008 the company stated that it had drilled 33 wells during 2008 in New York State.
The company's Q4, 2008 Quarterly Report stated that its reserves are estimated at 1.2 Bcf of natgas per Herkimer well, and that the last five horizontal wells drilled had averaged 1 Mmcf/d.
Acreage prospective for Marcellus and Utica shales
The lion's share of Norse's 175,000 acre New York leasehold was prospective for Marcellus shale, and the evaluation of its potential production had led to a large increase in the company's contingent reserves. Some of the central New York leases were also prospective for Utica shale. That also had a positive impact upon contingent reserves.
Shoots seismic and looks for a strategic partner
The company had been very active researching prospective Marcellus and Utica locations as well as in the Herkimer. In the process, its exploration department shot over 500 miles of 2D seismic data during 2008. The company had retained an investment bank to assist it in locating a strategic partner to help fully develop its shale potential in New York.
2009 Development Timeline
Norse/Nornew planned 25 more New York Herkimer wells in 2009. The company continued to drill numerous wells in Chenango Co. along with those in other counties.
Lebanon Rig Fire
The company was in the news in March, 2009 when there was a gas rig fire in southern Madison County near the town of Lebanon on the border with Chenango County. According to the report, another well fire had occurred a couple of months earlier two miles from this location. It was mentioned that Nornew had around 100 wells in the area of Lebanon and the neighboring town of Smyrna. This fire occurred in a very isolated area, and the cause of the fire was unknown.
More drilling results
An April, 2009 update mentioned that Nornew had identified a minimum of 250 prospective locations in the Herkimer formation on its 130,000 acres in central New York. The report also mentioned that the company's two most recent wells had production rates of 2.5 Mmcf/d. As of late April, five successful horizontal Herkimer wells had been drilled in 2009, and 18 previously drilled to various formations were awaiting pipeline hookup.
2010 Development Timeline
A January, 2010 company update noted that Norse Energy's leasehold had grown to 180,000 acres and 130,000 of them had "stacked potential". By stacked the company meant that this acreage also had potential for Marcellus and Utica shale development as well as Herkimer. The company noted that horizontal shale wells were presently prohibited in New York State pending final approval of the State's Supplemental Generic Impact Statement (sGIS) that was expected by the second quarter of 2010. At year end 2009, Norse was producing 12 Mmcf/d primarily from the Herkimer formation. Horizontal drilling had been permitted in that formation but with a limit of 80,000 gallons per fracture stimulation.
Large scale seismic testing
A news account in July, 2010 reported that Norse had crews out shooting 38,000 acres of 3D seismic data, representing approximately around 21% of its total acreage. Analysis of the 3D data was to help highlight the stacked potential of the multiple formations on Norse's land.
Herkimer drilling suspended due to water in wells
Drilling had been halted during the second quarter of 2010 due to water in a few of its Herkimer formation wells. Norse wanted to take time to analyze this issue, and also was awaited results of its seismic studies. It was later decided that the water was unlikely to affect production from these wells. Drilling was to resume during the fourth quarter of the year once the aforementioned 3D seismic became available.
Drilling resumed - joint venture with Stryker Energy
A press release appeared in late October, 2010 indicating that Herkimer formation development had resumed with spudding of a first well in a drilling program with Stryker Energy. The 50-50 joint venture appeared to be a way for Norse to leverage its extensive land holdings. Stryker agreed to cover some of the drilling and exploration expenses including 3-D seismic.
Norse enters into second JV
In late December, 2010, Norse entered into a second joint venture (JV) with Bradford Drilling Associates (ala BDA-29). It is an affiliate of Bradford Energy Capital, LLC. The latter was to have 25 to 50% working interest in 18 Norse wells in its 2010-2011 Herkimer drilling program. Drilling had already started on one of the wells. All locations had been identified through the use of newly acquired 3-D seismic. BDA-29 had paid $9 million for its share of the working interest in these wells.
Gas gathering trunk interconnects with Dominion pipeline
In late August, 2009 Norse announced that it had secured the last right of way it needed to complete an 87 mile-long gas gathering line providing access to most of its acreage in central NY State. By early October, the company stated that it had begun construction of a new pipeline interconnect for this gathering line with Dominion Transmission near the Village of Morrisville in Madison Co., NY. The new tap was to have capacity of 25 Mmcf/d and provide gas delivery access into two of Dominion's parallel pipelines as well as future interconnection to the Tennessee Gas and Millennium Pipelines.
Spotlight Issues
Norse's 2010 joint ventures with Stryker Energy and Bradford Energy Capital should help insure the company has sufficient financial resources to continue drilling in New York State in the Herkimer and other permitted formations.
Assuming New York State's sGIS blesses horizontal Marcellus and Utica shale drilling and DEC issues permits, Norse could be one of the biggest beneficiaries with its 130,000 acres prospective for both formations.
Norse has been active in central New York since 1996. The company has had time to establish its gathering lines and compression plants. It is well positioned to take advantage of new production coming from horizontally drilling these presently off-limit shale formations.
The aforementioned issue of water in a few of its Herkimer wells that resulted in a drilling shutdown during the 2nd quarter of 2010 is not expected to be any impediment to future production.
Higher natgas production from Norse's newer wells demonstrates a learning curve effect and that the company's drilling efforts are gaining in productivity with experience. Combined with utilizing its new 3D seismic data the company should be in very good position to continue drilling some very productive Herkimer wells. These will hold its acreage until Utica and Marcellus reserves can be drilled once DEC begins issuing drilling permits.
Executive Contacts
Mark Dice is CEO of the Norse Group.
Øivind Risberg is Norse's Chief Executive Officer.
Steven Keyes is its Vice President of Norse Operations.
S. Dennis Holbrook is Executive Vice President of Regulatory and Public Relations.
Richard Broughrum is CFO of Norse Energy USA.
Resources